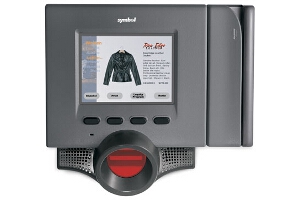 Zebra (formerly Motorola / Symbol) MK1200 Web Enabled Self-Service Micro Kiosk
Discontinued
Replaced by: Zebra (formerly Motorola / Symbol) MK500 Self-Service Micro Kiosk
Motorola / Symbol MK1200 Micro Kiosk Web-Enabled Self-Service Kiosk
Grow Your Retail Sales And Reduce Costs
The MK1200 Micro Kiosk™ from Motorola is the perfect space-saving device to cost-effectively deploy and run applications with digital signage, price verification and bar code scanning throughout your retail environment. This versatile, interactive self-service kiosk empowers you to increase your sales opportunities while reducing your internal store operation costs. With a thin profile and an eye-catching sharp color display, the MK1200 is compact in size yet easily visible and intuitive for first-time users. Customers quickly navigate your applications by using the kiosk's four programmable buttons or the optional touchscreen. Also, employees receive in-aisle access to mission-critical information from any location on the floor.
Versatile Applications Meet Customer And Employee Needs
The MK1200 enables customers to instantly obtain pre-sales assistance and customer service. For example, a quick scan of a product can verify price — including any special promotions that might be available. At the press of a button, customers can access a store map to locate a specific department, print a coupon and view frequent shopper specials to boost sales. The MK1200 also offers the versatility to improve productivity by enabling employees to enter stock alerts, call for shelf replenishment and obtain product details as well as clock in and out and access work schedules.
Creating Customer And Employee Applications Is Easy
For IT teams, the MK1200 software development kit (SDK) makes it easier and faster than ever before to create and deploy your applications. The comprehensive SDK includes the Kiosk Software Suite, a fully functional HTML-based demonstration application with source code. Large and small deployments are streamlined with a simple-to-use, menu-based configuration utility for automated remote device setup and management. All of these features enable you to build interactive solutions to satisfy even the most demanding business goals while staying on time and on budget — with one device.
Delivering Return On Investment (ROI)
The MK1200 allows you to improve customer loyalty and satisfaction for a stronger bottom line. It also frees your sales associates from time-consuming activities, increasing efficiency and productivity per employee with in-aisle access to critical information to perform everyday tasks quickly and efficiently.
Ideal For Interactive Applications Digital signage kiosk - with 5.7 in./14.5 cm diagonal, 1/4 VGA display - designed for customer- and employee-facing interactive applications including those using digital signage, bar code scanning and price verification.
Full Network Connectivity Connects to your network from anywhere over wireless (IEEE 802.11b) or wired (802.3) networks.
Four Programmable Function Buttons With Touchscreen Option Improves interactive applications with uses such as menu navigation and item selection.
Easy To Use Operating System Reduces application development time with Microsoft Windows CE .NET and standard Windows development tools.
Trim, Ergonomic Design Mounts easily, anywhere in the store - on walls, end-caps, shelves or poles - with a depth of less than 4 in./10 cm.
Printing Support C, C++, C#, VisualBasic.net and browser capability allows MK1200 to connect to many popular series printers.
Award-Winning Scan Engine Technology Reads all common bar codes found in retail environments.
Magstripe Reader (Optional) Users can swipe a card for identification and account access.
Need help finding a complete solution?
Call our product experts today!