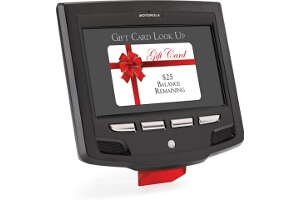 Zebra (formerly Motorola / Symbol) MK3000 Micro Kiosk
Discontinued
Replaced by: Zebra (formerly Motorola / Symbol) MK3100 All-In-One Multimedia Micro Kiosk
Motorola MK3000 - Micro Kiosk
Connect with your customers with the slim and cost-effective MK3000. In your retail store, you can connect with customers at the point of decision, driving customer service quality and basket size up. In your hotel, you can provide guests with speedy check-in, on-demand access to an electronic concierge and many other value-add services.
Launch Easy-to-Use Intuitive Applications in Record Time.
The 8 in./20.32 cm WVGA touchscreen display allows you to create graphic-rich visuals that easily guide users through applications. Support for Windows CE and a multitude of other standard development environments minimize development time.
Fast and Easy Installation.
Easily connect to your existing wireless or wired LAN. With a slim profile and standard VESA mounting, the MK3000 is easy to mount on shelves, walls, tables, end caps and more — so you can add self-service functionality without sacrificing crucial facility footage.
Add Whatever You Need — From Memory to Peripherals.
Three user-accessible USB ports allow you to customize the MK3000 to meet your business needs. Add memory for demanding applications. A printer to allow customers to print a receipt, gift registry and more. A magnetic stripe reader to allow self-checkout. A keyboard simplifies data entry.
Use Mobile Bar Codes to Build a Stronger and More Personal Relationship with Your Customers.
Since you can scan electronic bar codes on a computer screen, you can connect to the one personal device that is nearly always in the hands of your customers —their mobile phone (requires 2D imager). The result is convenience and value. Loyalty cards, coupons, boarding passes and more are on hand all the time, helping customers save time and money.
Promote Usage Inside Your Establishment.
Since it's easy to attach and change signage on the MK3000, you can draw attention to your MK3000s, as well as provide benefit and how-to-use information to entice customers into using them.
Get the Most Advanced Scanning Technology.
Both our imager and laser options provide a quality experience, able to capture scratched, dirty and poorly printed bar codes with lightning speed — first time, every time.
Superior Durability and Reliability.
Whether you choose a 1D/2D imager or a 1D laser scan engine, you can count on a rugged design that is built to last.
Never a Need to Align Bar Code and Scanner.
Patented illumination enables omnidirectional scanning — no need for customers to align bar code with scanner (imager only).
Easily Manage Your Entire MK3000 Devices Solution.
Manage your MK3000 devices and their attached peripherals — including printers and magnetic stripe readers — all from a single console. Stage, update, monitor and troubleshoot devices anywhere in the world from a central location, substantially reducing the largest cost of any mobility solution — everyday management.
Connect to Your Customers Instantly with Push-to-Talk.
WIth support for voice and Motorola's Total Enterprise Access Mobility (TEAM) solution, your customers can simply press a button to instantly reach any worker carrying practically any mobile device — from a Motorola two-way radio and mobile computer to popular smartphones.
Unique all-inclusive service plan for extra low support costs. Service from the Start Advance Exchange Support covers normal wear and tear as well as internal and external components damaged through accidental breakage for both device and select accessories.
Superior multimedia experience

8 in./20.32 cm color WVGA LCD touch screen, stereo speakers, microphone and headset jack

Get the most advanced scanning technology

Captures all the bar codes businesses need today — and tomorrow, including mobile bar codes

Motorola's flagship scanning functionality

Motorola's advanced imaging technology delivers laser-style performance on 1D, 2D and PDF bar codes as well as easy omni-directional scanning — while Motorola's signature laser scanning technology provides aggressive performance and accurate capture of all 1D bar codes

Add whatever you need – from memory to peripherals

Three user-accessible USB ports lets you customize the MK3000

Standard operating system enables rapid application development

Microsoft Windows CE, Internet Explorer 6.0, Symbol Pocket Browser, Visual Studio .Net 2005, EMDK for C, .NET and Java

Comprehensive networking options

IEEE 802.11a/b/g and Power-over-Ethernet (PoE) support

Connect to your customers instantly with push-to-talk

Support for voice lets customers reach help at the touch of a button

High performance architecture provides support for the most demanding applications

XScale 624 MHz processor; 128MB SDRAM/64 MB Flash and up to 8 GB Flash via an accessible Micro SD slot

Slim 2.17 in./5.5 cm profile

One of the thinnest profiles in its product class for easy installation

Support for standard VESA brackets
Easily manage your entire MK3000 solution

Compatibility with Motorola's Mobility Services Platform (MSP) lets you manage all your devices and their peripherals from a single console
Need help finding a complete solution?
Call our product experts today!