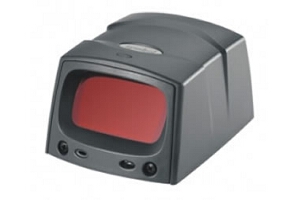 Zebra (formerly Motorola / Symbol) MS22XX Fixed-Mount Barcode Scanner
Discontinued
Replaced by: Zebra (formerly Motorola / Symbol) DS457 Fixed-Mount Area Imager (2D) Barcode Scanner
Motorol/Symbol MiniScan MS22XX Series Fixed Mount Scanner
High-Performance, Fixed Mount Scanning Made Simple
The Symbol MS22XX Series is a compact, affordable industrial fixed mount scanner that provides fast, aggressive performance on a full range of 1D and 2D symbologies including PDF417, RSS and composite codes. Available in standard and a VHD version to read high-density bar codes, the Symbol MS22XX offers a "smart" raster pattern optimized to read 2D symbols and poorly printed linear bar codes, making this fixed mount scanner ideal for use in a variety of automated data collection devices.
Plug-And-Play Installation Speeds Time To Market
Symbol MS22XX fixed mount scanners are easy to program and configure, enabling you to shorten your development time and bring your product to market faster — even if you don't have in-house technical resources for scanner integration. With its rugged durable housing, exit window, integrated beeper and interface options, the Symbol MS22XX enables your project teams to quickly and confidently integrate high-performance 1D and 2D bar code data capture into standalone and OEM applications.
Proven Technology To Enhance Your Solutions
With millions of installations worldwide, our OEM devices are proven to deliver high reliability and superior performance, ensuring the accurate and quick capture of data and images in your mission-critical applications and devices. In addition, an easy-to-integrate design and expert assistance from our world-class OEM support team enable you to bring your systems to market quickly and cost effectively. And since even the most intelligent products require a maintenance plan and a support strategy, we offer superior services to help you maximize uptime and maintain peak performance.
'smart' Raster Pattern Automatically tailors the pattern to the height of the PDF417 symbol.
Plug-And-Play Installation Reduces your development time and speed your time to market.
Adaptive Scan Patterns 1D linear and PDF raster can be customized using multiple triggering methods.
Compact, Rugged, Durable Housing Includes integrated beeper, mounting holes, LEDs, decoder and a variety of interfaces.
Sealed To IP54 Standards Protects against water and dust, ensuring reliable performance in rough conditions.
Automatic, Software-Controlled Or Manual Triggering Offers flexible control of unattended or hands-free applications.
Integrated Beeper With External Beeper Support Toggles between internal or external beeper, depending on application.
Easy-To-Program Simple Serial Interface (SSI) Provides fast, simple interface communication with advanced features and functionality.
Optional Software Developer's Kit (SDK) Enables creation of applications using Windows 98, 2000, and XP platforms.
Supports 123Scan utility (multi-interface, 2007 versions only) Easy-to-use PC-based utility reduces end-user installation time.
Multiple Mounting Options Increases development flexibility.
Need help finding a complete solution?
Call our product experts today!