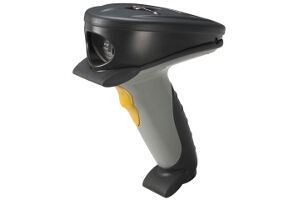 Zebra (formerly Motorola / Symbol) P300IMG Industrial Barcode Scanner with Image Capture
Discontinued
Replaced by: Direct Replacement Not Available - Contact Us For Suggested Replacement
Symbol P300IMG Industrial Bar Code Scanner with Image Capture
Rugged Imager with Multiple Capabilities
Symbol introduces the P300IMG rugged hand-held imager for reading all major bar code symbologies with the added capability of image capture. Powered by Symbol's SE 4200 scan engine and an award-winning ergonomic design, this industrial handheld imager is perfect for applications requiring not only 1-D and 2-D omni-directional scanning but also the ability to capture images and signatures.
Designed for Extreme Environments (XE)
The P300IMG meets the most stringent industrial standards, earning the Symbol XE class label. It is sealed to IP54 specifications for protection against windblown dust and rain, and withstands multiple 6 ft./1.8 m drops to concrete over the entire temperature range of -22° to 122°F/-30° to 50°C.
Its XE class ruggedness, impressive bar code reading and fast image transfer capabilities make the P300IMG an ideal choice for warehouses, distribution centers, and manufacturing floors.
Innovative Design Features
As innovative as it is rugged, the P300IMG delivers the sophisticated ergonomic and operational features industrial applications demand. The scanner's exit window is scratchresistant and recessed to prevent damage from direct contact. A twist-to-lock cable seals the scanner and provides superior strain relief. For those applications requiring quick access and out-of-the-way storage, the P300IMG comes with a built-in metal hook for attachment to a pulley. And the large, LED enhancing window and extra loud 75 dB twin beepers make the "good decode" feedback impossible to miss. Leveraging the award-winning Phaser "handle-forward" design makes the scanner extremely comfortable to hold and reduces fatigue when scanning throughout a full shift in scan-intensive applications.
PDF417, DataMatrix, MaxiCode and Postal Code
Whether your requirement is to read DataMatrix for small item identification, MaxiCode for parcel sortation, postal codes for mail-handling, omni-directional linear bar codes or PDF417 across a variety of applications, the P300IMG provides unmatched performance. The P300IMG-HD, high density imager, can read matrix codes as small as 5 mil DataMatrix, while maintaining great working ranges on all other symbologies.
Image Capture and Video Applications
For image capture applications, the P300IMG enables the creation of an electronic image database by delivering clear VGAresolution images while providing the user total control over image attributes such as compression quality, transfer time and file size.
Understanding the need for instantaneous image transfers, the P300IMG's "thumb nail" image can be transmitted to the host in as little as half of a second over your PC's standard COM port. Leveraging its extremely fast image transfer capabilities, the P300IMG can also rapidly transmit sequentially captured images, providing a basic video output for host display.
Intuitive Operation and Use
To ensure you capture the best image on the first try, the P300IMG provides more than one aiming option. A bright laser generated pattern clearly outlines the imager's field of view, providing straightforward point-and-shoot scanning and image capture. And introducing an industry first, a "video viewfinder" that displays live images of your target on your host, letting you decide if you have the picture you want, before you pull the trigger.
Need help finding a complete solution?
Call our product experts today!