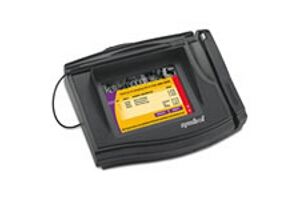 Zebra (formerly Motorola / Symbol) PD8500 Transaction System
Discontinued
Replaced by: Zebra (formerly Motorola / Symbol) PD8750 Interactive Color Payment System
Motorola / Symbol PD8500 Transaction System
Build Customer Loyalty with Every Transaction
The PD 8500 interactive color payment device from Symbol Technologies provides advanced capabilities that include debit, credit and electronic benefit transfer (EBT) transactions. To comply with Visa® PED requirements, the PD 8500 supports secure personal identification number (PIN) debit transactions and also features signature capture and line item display. The PD 8500 offers a standards-based operating system and a bundled payment application for ease of deployment and maintenance. Its color display and pressure sensitive touch screen engage users with intuitive messages, prompts and attractive promotions to reinforce brand messages at the point of sale.
Market:

retail general merchandise and specialty stores

Applications:

Point of sale transactions (credit and debit) and specialty stores Signature capture Scrolling display Loyalty marketing and advertising

Market:
Applications:

Point of sale transactions (credit, debit and EBT) HIPAA compliance

Market:
Applications:

Electronic document with signature capture for HIPAA compliance

Market:
Applications:

New account applications
Account access validation
Cash withdraw authorization
Safe deposit access

Market:
Applications:

Identification and security access control
Versatile Features for Easy Integration
Using the industry standard Microsoft®Windows® CE.NET architecture and Symbol posDesigner visual development software, customized application development on the PD 8500 is fast and easy. A software developers' kit (SDK) is also available for integrating the PD 8500 into major point of sale and point of service systems.
Once deployed, advanced features such as palm rejection and triple DES (TDES) make the PD 8500 more reliable and secure. Palm rejection technology distinguishes between the pen and the hand for higher quality electronic signature capture. The PD 8500 also supports TDES PIN encryption – a higher level of security for your debit payment applications and a key component of Visa PED compliance. Its standards-based architecture and rich feature set make the PD 8500 one of the most powerful and flexible transaction payment terminals available today.
End-to-End Retail Solutions to Serve Your Customers Better
The PD 8500 payment terminal uniquely improves the customer check out experience, while it reduces transaction and paymentrelated costs at the point of sale. You can deploy the PD 8500 with confidence because it's from Symbol Technologies—a global leader in advanced data capture and transaction devices, rugged mobile computers, wireless networking and mobility software—with proven systems at work in millions of locations around the world.
Microsoft Windows CE .NET

Standards-based operating system avoids constraints and higher cost of application maintenance associated with closed, proprietary operating systems

Signature Capture and Virtual PIN Pad

Provides multiple payment options including credit and debit

Pressure-Sensitive Touch Screen

Low maintenance and high uptime performance; eliminates replacement and repair costs for electronic pens

Complete and Easy to Use Software Developer's Toolkit

Seamless integration with major PC or POS platforms

Large and Vibrant Color Backlit Display

Ability to display high quality images for consumers; easy to see in dim or well-lit areas; durability to withstand everyday, all-day use

High-Performance 32-Bit Processor

Delivers the speed and performance required to process transactions

Built-In 3-Track Magnetic Stripe Reader (MSR)

Ability to read a variety of magnetic stripe cards including credit and debit

Optional Software Suite Based On OPOS and JPOS Standards; C/C++, Java or Visual Basic Programming Languages

The tools you need for fast and easy development of applications
Need help finding a complete solution?
Call our product experts today!