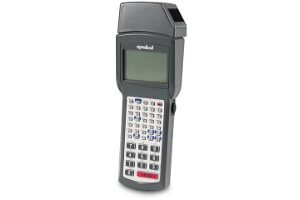 Zebra (formerly Motorola / Symbol) PDT3100 Portable Data Terminal
Discontinued
Replaced by: Zebra (formerly Motorola / Symbol) MC3000 Handheld Mobile Computer
Motorola / Symbol PDT3100 Portable Data Terminals
Now with Enhanced Features!
Industry Leading Data Terminal with New Enhancements
The PDT 3100 from Symbol Technologies is the bar code data capture industry's most popular portable data terminal with a proven history of performance and reliability second to none. A wide variety of flexible options – including a choice of displays, keypads, bar code scanning and communications – enable the PDT 3100 to be customized to best fit the needs of your application. Users can select from 4- or 8-line by 20 character displays, 35- or 46-key alphanumeric keypads, optional integrated 1-D scanning, and either batch or wireless communications via Symbol's Spectrum24® wireless LAN technology. An improved display is sharper and easier to read, even in bright light. And a new and improved scan engine delivers robust scanning performance.
High Performance First-Time Every-Time Scanning
The PDT 3100 Series offers outstanding scanning for the most demanding environments. The SE1200 HP scan engine delivers faster scanning with the ability to easily read bar codes through plastic and other protective coatings, poor quality bar codes, and reflective and low-contrast symbols as well. In addition, the flexible scan head can rotate, enabling left- or right-handed scanning.
Ideal for Data-Intensive Applications
The PDT 3100 Series is ideal for data-intensive applications in a wide range of industries including retail, where portable data terminals bring increased efficiency and accuracy to shelf price audits, price checking, order entry, inventory control, shipping, picking and receiving. In transportation and logistics environments, the PDT 3100 enables more efficient package/baggage tracking, picking and receiving, and cross-dock applications.
Proven Past, Unlimited Future
One of the industry's most proven and robust portable data terminals, the PDT 3100 Series offers flexible options to meet your needs today and in the future, with performance and reliability you can count on. It's another example of strategic thinking from Symbol, the worldwide leader in bar code-driven data management systems.
DOS Operating System

Standard 16-bit DR-DOS software environment for easy development

Improved Display

Sharp, easy to read - even in bright light

Rotating Scan Head

Allows convenient left- or righthanded data capture

Side-Mounted Alpha Shift/Laser Key

Users may select left- or rightshift/ trigger for optimal comfort and maximum productivity

Comfortable Grip

Maximum user comfort, even over extended periods of use

Integrated Symbol Scan Engine

High-performance data capture minimizes input error

Durable Design and Construction

Stands up to rough handling-including 4 ft./1.2 m drops to concrete

High-Capacity NiMH Battery Pack

Full-shift battery life keeps employees productive

Full Range of Options

Choose memory and communications technology according to your specific needs
Need help finding a complete solution?
Call our product experts today!