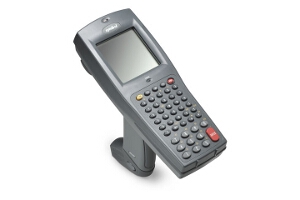 Zebra (formerly Motorola / Symbol) PDT6800 Portable Data Terminal
Discontinued
Replaced by: Zebra (formerly Motorola / Symbol) MC9000-G Pistol-Grip Mobile Computer
Motorola / Symbol PDT6800 Portable Data Terminal
Rugged Terminals for Scan-Intensive Applications
The PDT 6800 Series of rugged, portable data terminals combines mobile computing, integrated bar code data capture and optional wireless communications in a lightweight, ergonomic device. PDT 6800 terminals are ideal for data management activities and increase accuracy anywhere along the supply chain. The comfortable, "forward-scanning" design enhances productivity for scan-intensive applications in retail such as inventory management, replenishment and price management. Yet PDT 6800 terminals are also tough enough for applications in harsh environments such as manufacturing, warehousing and distribution.
PDT 6800 terminals are environmentally sealed against severe weather conditions, including dust and rain. They are rugged enough to withstand multiple 4 ft./1.2 m drops to concrete—across the entire operating temperature range; a rubber boot enhances product durability.
Flexible Computing at the Point of Activity
This flexible productivity tool offers features such as standard, long-range, high-visibility, or two-dimensional scanning options and a 35- or 46-key alphanumeric keypad. Additionally, the PDT 6800 is available with wireless local area network (WLAN) connectivity for real-time, high-performance data transfer or extended memory for batch communications with your PC—you choose the right communications capabilities to meet your needs.
Whether users are performing inventory counts, shelf price audits, receiving, stock transfers or markdowns, the improved display is sharper and easier to read––even in full sunlight or in high-intensity, artificial light—for increased productivity. Add WLAN connectivity together with a premium performance scanner and you have a rugged decision support tool for real-time data management. Connect a portable printer and generate bar codes for price markdowns or shelf label changes at the point of activity. What's more, the PDT 6800 is equipped with a large-capacity battery to ensure ample power for full shift use.
Integrated Symbol Scan Engine

Premium preformance 1D or 2D data capture minimizes input error

Optional WLAN Communications

Efficient real time information exchange for maximum productivity

Forward Scanning, Pistol Grip Ergonomics

Comfortable and well balanced for scan-intensive applications

Reliable, Industry Standard, Dos-Based Architecture

Allows for efficient programming and development of dataintensive applications

Improved 16-Line Display (NEW)

Easy to read display for indoor or outdoor use

35 (NEW) or 46-Key Alphanumeric Keypad

Quick and easy data input

Sealed to IP54 Standards Against Rain and Dust

Terminal can be used in harsh environments

Large Battery Capacity (NEW)

Ample power for a full shift

Full Line of Accessories

Enables an application specific mobile solution
Need help finding a complete solution?
Call our product experts today!