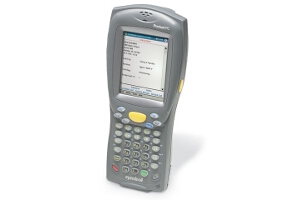 Zebra (formerly Motorola / Symbol) PDT8100 Portable Data Terminal
Discontinued
Replaced by: Zebra (formerly Motorola / Symbol) MC9000-G Pistol-Grip Mobile Computer
Motorola / Symbol PDT8100 Portable Data Terminal
Tap, Type, or Scan–Maximum Versatility in a Portable Data Terminal
The PDT 8100 Series from Symbol Technologies bridges the gap between pure pen-based and key-based mobile data collection solutions. The first Pocket PC device available with multiple keyboard options, the PDT 8100 is a versatile, large-screen hand-held that delivers the functionality of Pocket PC with the convenience of tactile, key-based data entry.
Understanding and Anticipating Diverse Business Needs
Designed to meet mobile data management demands in an array of markets, the PDT 8100 offers features and options to suit diverse applications and business needs. For instance, multiple keyboard options are available for maximum data entry efficiency in different environments. Route accounting professionals may prefer the 28-key numeric keyboard, whereas retail customers may opt for either a 37- or 47-key alphanumeric keyboard.
Sealed to IP54 standards, the rugged durability of the PDT 8100 meets the needs of many industrial environments. This, coupled with communication options that include batch, WLAN and WWAN connectivity, enables the PDT 8100 to deliver data where and when it's needed, enhancing productivity where business is conducted –whether taking inventory in the warehouse, or checking on an order from a customer site. Ease of use and reliability are benefits that are valued across all markets. The PDT 8100 features a large, easy-to-read 1/4 VGA display, backlit keyboard and rechargeable, extendeduse lithium-ion battery, which contribute to the PDT 8100's dependability and universal market appeal.
Power and Performance for Today and Tomorrow
The innovative PDT 8100 Series is a powerful hand-held that combines the strength of Microsoft's Pocket PC platform with the power of the Intel® StrongARM processor, operating at 206 MHz. Equipped with 32 MB of ROM and RAM, the PDT 8100 is designed to keep pace with your business. Reinforcing this are the expansion possibilities offered by the user-accessible CF slot, which can accommodate a flash memory card or the CF-based VoIP option.
With the dynamic PDT 8100 Series, route accounting professionals are able to conduct business and complete transactions while on site with a customer. Retail clerks can perform price checks and inventory counts conveniently and accurately, or speak with a manager on another floor. Combined with the optional magnetic stripe reader, the PDT 8100 can also be used for line busting or Portable POS applications. And healthcare workers can manage patient data through bar code scanning, key-based input or touch-screen selection. The list of markets and applications for this feature-rich hand-held is virtually unlimited.
Microsoft® Pocket PC Platform

Portable convenience and a familiar, flexible computing platform

Rugged Construction–Sealed to IP54 Standards with 4 ft. Drop to Concrete

Operates in harsh environments

WLAN or WWAN Communication

Anytime, anywhere information access

Symbol's Miniature Scan Engine

High-performace scanning even in bright light

32 MB RAM, 32 MB ROM

Ample storage capacity for data and applications

1/4 VGA Display with 16-Level Grayscale

Large, easy-to-read display

Rechargeable Lithium-Ion Battery

Maximum usage between charges

Keyboard and Touch Screen Data Entry

Multiple modes of data entry for maximum efficiency

Flexible Key Configuration (Choice of 28-, 37- and 47-Key)

Optimized features, functionality and key layout for mobile applications

Back-Lit Keyboard

Usable under low-light conditions

IrDA Port

Enables data transfer to peripherals such as printers

User-Accessible Compact Flash Card Slot

Provides flexibility for expansion and storage; protection against data loss
Need help finding a complete solution?
Call our product experts today!