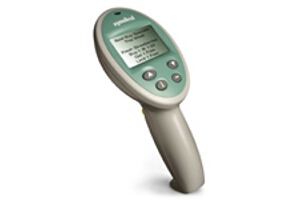 Zebra (formerly Motorola / Symbol) PS3050 mCommerce Solution
Discontinued
Replaced by: Direct Replacement Not Available - Contact Us For Suggested Replacement
Motorola / Symbol PS3050 mCommerce Solution
Keeps Shoppers Coming Back to Your Store … for More
The PS 3050 terminal from Symbol Technologies, The Enterprise Mobility Company™, combines technical excellence with an intuitive consumer interface to ensure that shoppers have a more positive mobile shopping experience.
Ideal for supporting self-scanning and mobile marketing initiatives, the PS 3050 is a cost-effective device for rugged retail environments with applications such as gift registry, fast food, pharmacy or deli. Shoppers will find the PS 3050 terminal easy to use. It allows the efficient scanning of items, quick review of running tallies and receipt of marketing communications and messages.
Features and Capabilities for Gift Registry and Retail Applications
The PS 3050 mobile computing terminal has an AMD 16-bit CISC microprocessor, which can run up to 50 MHz. It has 1 MB flash memory along with 1 MB of static RAM to leverage gift registry and grocery applications. The PS 3050 has a built-in IEEE® 802.11b radio for seamless wireless communication. The ruggedized PS 3050 terminal has 8 lines of display and is graphics capable, with an audible beep to get the shoppers attention. PS 3050 is ergonomically designed for shoppers' comfort and features four, interactable keys plus a scanning trigger.
The PS 3050 uses a cradle for storage and battery charging. With customer self-service applications, the cradle is in a locked (typically) position, keeping the terminal secure until an authorized customer triggers an unlocking sequence. Cradles are required for charging and can be mounted onto a self-service kiosk or entrance station.
Modular, Adaptable Solutions for End-to-End Mobility
The PS 3050 terminal is the core component of an end-to-end mCommerce solution. It's easy to configure with a variety of options, which include Mobile Software Architecture, enabling software/tools, modular dispensing unit, self-service check-in with MicroKiosks and possibly a return or checkout station. Symbol business partners provide application-specific software that best meets your customer and business needs. You can deploy your mCommerce solution with confidence, because it's from Symbol Technologies – with proven systems at work in millions of retail locations around the world
Rugged mobile PS 3050 computing terminal
Entrance station (bar code or magnetic stripe)
Charging cradle
Spectrum 24 IEEE 802.11b wireless LAN
Wireless switching system
Windows NT/2000 server
Enabling tools and application software
Gift Registry

Real-time, point of decision marketing

Quick Order for Rapid Fulfillment

Store specials, messages, customer convenience, speed shopping in delicatessens, pharmacies

Consumer Self-Scanning
Price Verification

Based on customer shopping history, buying preferences

Product Information
Private Communications

Increased Customer Loyalty
Need help finding a complete solution?
Call our product experts today!