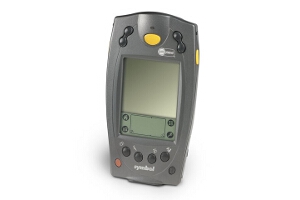 Zebra (formerly Motorola / Symbol) SPT1700 Pocketable Computer
Discontinued
Replaced by: Zebra (formerly Motorola / Symbol) SPT1800 Pocketable Computer
Motorola / Symbol SPT1700 Pocketable Computer
Rugged Pocketable Computers with Wireless LAN and PDF417 Capabilities
The SPT 1700 family continues the revolution of pocketable computing, combining integrated scanning, sophisticated connectivity and ruggedness with the popular Palm® platform. The SPT 1700 offers ruggedized data communications capabilities with its built-in link to the open architecture of Spectrum24®. This wireless LAN from Symbol Technologies enables up-to-the-minute information flow between the point of activity and your remote host systems.
The newest addition to the Symbol SPT 1700 family, the SPT 1700-2D, offers flexible 1D and entry-level PDF417 bar code data capture. Available in both batch and wireless configurations, the SPT 1700-2D complements the SPT 1700 product family, further expanding the capabilities of a proven productivity tool.
Empower Your Work Force
The feature-rich SPT 1700 product family extends the reach of IT resources in a host of industries. Warehouse management can easily record new inventory levels to networked host systems as shipments are unloaded. Service professionals in hospitality can offer curbside check-in at hotels, and hospital physicians and caregivers can have the latest patient data at hand.
Additionally, with its PDF417 scanning abilities, the SPT 1700- 2D enables law enforcement officers to scan vehicle registration or drivers' licenses to gather information immediately. Trade show and conference staff have the ability to process attendee information in real time. And transportation and logistics professionals can now scan bills of lading and other documents encoded with PDF417 two-dimensional bar codes, reducing paperwork handling at the loading dock.
Detailed attention to ergonomics and sleekly rounded edges provide a secure fit in the hand. At 7 in./17.8 cm high the SPT 1700 easily slips into a pocket. Weighing just 10.3 oz./288 gm, this powerful productivity tool is a perfect fit for mobile workers. The scan engine in the SPT 1700 family is the SE 900 from Symbol Technologies. This state-of-the-art scan engine, the smallest, lightest and brightness available today delivers premium performance even at ranges of up to 30 in./76.2 cm. The SPT 1700-2D houses the SE 900HS high-performance scan engine, optimized for PDF417.
Tackle Tough Environments
Tough enough for use in manufacturing and industrial environments, the ruggedized housing withstands drops of up to 4 ft./ 1.2 m to concrete. Tested to IP54 standards for protection against rain and dust, these computers can be used outdoors on loading docks and yards and, because they use a 650 nm laser diode, you will still see the scan beam– even in bright sunlight! A high-contrast, anti-reflective liquid crystal display makes data easy to read in low light or outdoors. A rechargeable lithium-ion battery and optional single- and multi-slot cradle configurations assure flexible convenience and strong performance no matter how intensive the task.
Tailor Solutions with Ease
Using the Palm platform, programmers can build solutions from numerous standard development environments. A standard 2 MB of RAM expands up to 8 MB for large data or program storage demands. Flash ROM expands from 2 MB to 4 MB. Developers can use standard Palm OS™ development tools to write custom applications quickly and inexpensively. The development tool kit includes Symbol Application Program Interfaces (API) that control the scanner, enable local area network communications, and manipulate data input and printing using the serial or infrared ports. Software development tools including CodeWarrior, SatelliteForms™, PenRight!, AvantGo and Aether ScoutWare, support APIs from Symbol in their application development tool sets.
Spectrum24 Wireless LAN Connectivity Option

Transmits data to and from network information systems in real time

Rugged Housing Meets IP54 Standards

Stands up to tough industrial environments

Integrated SE 900/SE 900HS Scan Engine

State-of-the-art scan engine delivers premium performance

Rechargeable Lithium-Ion Battery

Flexible and convenient for demanding environments

2 MB of RAM and ROM with Optional 8 MB RAM and 4 MB ROM Available

Memory flexibility to accommodate application demands

Palm OS™ Operating System and Development Environment

Readily available development tools including AdvantGo, CodeWarrior, SatelliteForms, Aether ScoutWare, and PenRight! Ask Symbol about other development tools

Supports Single-Slot Serial and Modem Cradles and Multi-Slot Serial and Ethernet Cradles

Flexible host communications for most network and user environments
Need help finding a complete solution?
Call our product experts today!