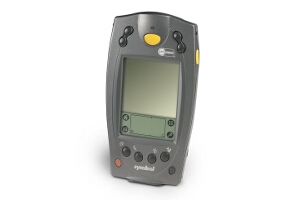 Zebra (formerly Motorola / Symbol) SPT1800 Pocketable Computer
Discontinued
Replaced by: Janam XP (XP20 / XP30) Handheld Mobile Computer
Motorola / Symbol SPT1800 Pocketable Computer
Rugged Mobility, Efficient Data Management and the Power of Palm
The SPT 1800 Series of pen-notepad computers offers the most advanced Palm PoweredTM solution for your work force. This family of rugged mobile computers combines integrated scanning, sophisticated wireless connectivity and powerful processing capability with the Palm OS® platform. With 1-D bar code data capture and wireless local area network (WLAN) or wireless wide area network (WWAN) communications, the SPT 1800 Series is a powerful productivity-enhancing tool, serving the multiple needs of today's growing mobile workforce.
Tackle Tough Environments
Tough enough for use in manufacturing and industrial environments, the SPT 1800 Series enables the Palm OS to perform practically anywhere. The rugged SPT 18XX housing is sealed to IP54 standards for protection against rain and dust, and withstands 4 ft./1.2 m drops to concrete.
Symbol's state-of-the-art scan engine with bright, easy to see scan line, delivers premium scanning performance under virtually any lighting condition–even sunlight or bright artificial light. A high-contrast, anti-reflective liquid crystal display makes data easy to read in low lighting or outdoor conditions.
Integrated WLAN or WWAN communication extends the reach of IT resources, enabling real-time information flow between the point of activity and your remote host system. The WWAN GSM version has voice capabilities, offering additional flexibility for wireless communication, making your business truly mobile.
Empower Your Work Force
The combination of rugged durability, integrated bar code scanning and wireless communication enables users in a host of industries to capture, compute and communicate data anytime, anywhere.
As shipments are unloaded, warehouse management can easily record new inventory levels to networked host systems. Service professionals in hospitality can offer curbside check-in at hotels, and hospital physicians and caregivers can have the latest patient data at hand.
Law enforcement officers can scan vehicle registration or drivers' licenses to gather information immediately, and wireless WAN communication enables them to send and receive information from the point of activity. In retail, when coupled with a magnetic stripe reader and portable printer, the SPT 1800 becomes a portable point-of-sale device, and, for scan-intensive tasks, an attachable handle converts the SPT 1800 into an ergonomic pistol grip design.
Mobile Solutions
Deployment of the SPT 1800 can help increase efficiency and productivity in your business, and a complete line of accessories and peripherals are available to create a total mobile solution.
Spectrum24® Wireless LAN Connectivity Option

Enables full mobility with real-time data transmission to and from network information systems

Wireless WAN Connectivity

Extends access to information beyond the enterprise

Palm OS®

Easy-to-use and developer-friendly

Rugged Housing Meets IP54 Standards

Withstands typical workday usage and tough industrial environments

Integrated Miniature Scan Engine

Fast, reliable bar code scanning delivers increased efficiency and accurate data capture

8 or 16 MB of RAM and 4 MB of ROM

Accommodates application needs and memory demands

High-Contrast Liquid Crystal Display with Enhanced Backlight

Offers increased visibility for user comfort and acceptance

Rechargeable Lithium Ion Battery Plus a 1-hour Ni-MH Backup Battery

Long battery life enables full workday capacity plus extended backup ensures against data loss

Supports Single-Slot Serial and Modem Cradles/Multi-Slot Serial and Ethernet Cradles

Flexible host communications conveniently support various network environments
Need help finding a complete solution?
Call our product experts today!