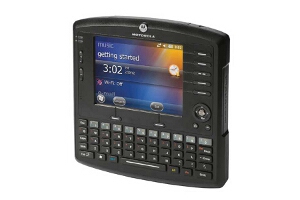 Zebra (formerly Motorola / Symbol) VC6090 Lift Truck-Mounted Mobile Computer
Discontinued
Replaced by: Direct Replacement Not Available - Contact Us For Suggested Replacement
Motorola VC6090 Lift Truck-Mounted Mobile Computer
(Manufacturer page here)
The Motorola VC6090 lift truck-mounted mobile computer is size- and weight-optimized to fit any tight-spaced lift trucks, carts and other vehicles. With pre-loaded and pre-licensed Wavelink Terminal Emulation, and the integrated, large-key integrated QWERTY keyboard, the VC6090 is ready for use out of the box. And applications developed for other Motorola mobile computers can be easily ported to the VC6090, reducing software development and training.
The Ideal Form Factor Vehicle Computer for Small Forklift
The VC6090 provide size and weight optimization to any tight-spaced lift trucks and carts and other vehicles.
Ready for Terminal Emulation
With pre-loaded and pre-licensed Wavelink Terminal Emulation and with the large-keys Integrated QWERTY keyboard, the VC6090 is ready for use out of the box.
Robust Wireless Connectivity Inside the Four Walls
The Wi-Fi 802.11a/b/g radios supported with integrated antenna enable the easy connection to any available WLAN, providing cost-effective wireless voice and data communications when drivers are inside the enterprise campus or near hotspots.
Easy to Use
The VC6090 is equipped with easy-to-use technology that virtually eliminates the need for training. The large 6.5 inch VGA display is easy to see in practically any lighting condition — from total darkness to bright sunlight, even when viewed through polarized sunglasses. The touchscreen display enables easy data input — even with gloved hands. Microsoft® Windows® Mobile provides a familiar interface as well as compatibility with many of today's mobile applications. And programmable soft keys can provide single-key simplicity for frequently repeated tasks.
Reduce Complexity of MobilIty
Integrated voice and data simplifies life for your drivers... and your IT staff. Part of Motorola's leading rugged mobile computer line, the VC6090 offers the shared hardware and software architecture required to integrate seamlessly into your existing Motorola infrastructure. Applications developed for other Motorola rugged mobile computers can be easily ported to the VC6090, dramatically reducing software development and training requirements, and increasing the return on investment for existing applications.
Enterprise Class Manageability
With the addition of Motorola's Mobility Services Platform (MSP), your drivers remain out on the road, while you remain in control of your mobile devices. MSP allows you to quickly and easily deploy, provision, track and troubleshoot all your VC6090 and Motorola handheld mobile computers right over the air, anywhere in the world, all from a central location — bringing an unprecedented level of simplicity and low cost to the management of mobile devices.
End-to-End Services Keep Your VC6090 Mobile Computers Up and Running at Peak Performance
Take advantage of 'from the manufacturer' expertise with Motorola's Enterprise Mobility Services. To help protect your investment, Motorola recommends Service from the Start with Comprehensive Coverage. This unique service covers normal wear and tear, as well as internal and external components damaged through accidental breakage — significantly reducing your unforeseen repair expenses. And options such as Express Shipping and Fastrack help to further minimize downtime in the unlikely event your device requires repair.
Small form factor

Low width and height and thin design for minimal driver obstruction and maximum space utilization

Rugged construction:

IP64-sealed, aluminum rear housing and MIL-STD-810F military ratings

Designed to withstand the most extreme environments including lift truck mounting use cases, protects your investment; dramatically reduces downtime and repair costs

Integrated large keys keyboard

Offers programmable, navigation keys with tactile feedback and integrated QWERTY keyboard with large keys ideal for gloved hands, all backlit

Bright 6.5 inch color VGA resistive touchscreen display (640 x 480)

Easy to view practically in any lighting conditions

Common Motorola architecture with XScale® PXA270 @ 624 MHz and Microsoft Windows Mobile 6.5 Professional

Easily leverage applications developed for other Motorola rugged mobile computers; support for a wide range of applications, real-time processing and data storage needs

Integrated 802.11a/b/g WLAN

For seamless integration with your existing WLAN for powerful real-time data visibility with integrated internal antenna

Flexible Mounting

Offers light weight and VESA100 mounting compatibility for flexible mounting solutions

Pre-loaded, Prelicensed Terminal Emulation

Offers out-of-the-box terminal emulation solution

MSP compatible

Easy and cost-effective centralized remote management

USB Connectivity

Provides 2 USB host ports to connect a corded bar code scanner and for a service memory stick. Another USB Client port is provided for ActivSync

RS232 and GPIOs connectivity

Provides 2 RS232, 8 Digital Inputs, 8 Digital Outputs and 2 Analog Inputs for building flexible solutions

WPAN: Bluetooth® v2.0, Class II

Wireless connectivity to cordless Bluetooth bar code scanners

128MB RAM/256MB Flash

Provides memory space required to enable robust performance for database applications

User accessible SD card slot

Provides additional memory and expandable functionality
Need help finding a complete solution?
Call our product experts today!