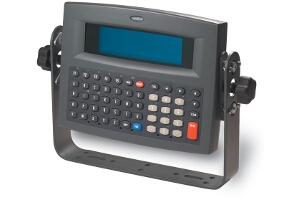 Zebra (formerly Motorola / Symbol) VRC6940 Vehicle Radio Computer
Discontinued
Replaced by: Direct Replacement Not Available - Contact Us For Suggested Replacement
Motorola / Symbol VRC6940 Vehicle Radio Computer
Rugged Vehicle-Mount Computer Thrives in Industrial Extremes
The heavy-duty VRC 6940 Vehicle Radio Computer Series from Symbol Technologies is precision-engineered to withstand extreme temperatures and the harshest industrial environments.
Symbol VRC 6940 Series computers mount directly to forklift trucks, enabling operators to wirelessly collect and transmit data to the host from the factory or warehouse floor. These truck-mounted computers facilitate real-time management of material, work-in-process and finished goods. Productivity increases because operators receive the latest work instructions and information updates without leaving the truck.
Stands Up to Tough Environments
The VRC 6940 Series is built for rugged use under the most trying industrial conditions. The sturdy, ergonomically rounded magnesium housing provides the highest strength to weight ratio. It meets tough IP65 and NEMA4 standards for protection against the elements on loading docks and in warehouse yards. Durable construction, built to rigid SAE J1455 and MIL-STD 810E vibration standards, protects the unit from random bangs and shocks. A VRC 6940 operates reliably in extreme temperatures ranging from -22°F/-30°C to 122°F/50°C.
The VRC 6940 computer mounts easily to the forklift and plugs directly into the forklift battery, eliminating the need for an additional power supply. The scanner, power and RS-232 communication ports all use industrial-grade connectors and Symbol's thoughtful design equips the computer for input voltages ranging from 12 to 60 VDC, or 12 to 24V automotive.
Communicates Without Wires
The efficiency of cost-effective wireless networking is integral to the VRC 6940. The computer supports Symbol Spectrum24® open architecture wireless networking technology, designed to comply with the IEEE 802.11 standard for airwave communications.
For the utmost in flexible data management, Symbol hand-held bar code scanners and printers plug directly into the VRC 6940. Symbol offers a broad line of ruggedized industrial scanners that read one- and two-dimensional bar codes and capture data in dim light or on high warehouse shelves – even from poorly printed or damaged bar codes.
Large Application Base
The VRC 6940 has a large, fluorescent 8-line x 40-character display that is easy to view in the dim light of a warehouse, factory or loading dock. The alphanumeric keyboard has oversized keys so workers don't have to remove gloves for accurate operation. Because the VRC 6940 builds on the heritage of Symbol's existing Series 3000 terminals, a wide range of application software is readily available. The DOS-based operating environment permits easy software application development. For added flexibility, Symbol also offers IBM 3270/5250 and VT 100/220 terminal emulation.
Your Symbol for Extreme Environments
The VRC 6940 Series offers rugged computers for extreme environments. They could only come from Symbol Technologies, the company that combines innovative products with industry systems expertise to provide the industry's leading transportation and logistic solutions.
Housing Meets IP65 and NEMA4 Sealing Standards

Collect data and communicate instructions to workers even in extreme environments such as on loading docks, in docking yards and other outdoor work areas

Computer Withstands Bangs and Shocks and Works Smoothly in Extreme Tempertures

New flexibility to manage data from the point of activity even in the harshest industrial environments

Wireless Networking via Symbol Spectrum24 High-Performance IEEE 802.11-Based System

Seamless connectivity to Ethernet networks and Enterprise Resource Planning systems to support efficient supply chain management

Symbol Bar Code Scanners Plug In

Select the Symbol tool that best fits the data management task

Builds on the Heritage of Symbol's Existing Series 3000 Terminals

Wide range of existing applications available
Need help finding a complete solution?
Call our product experts today!