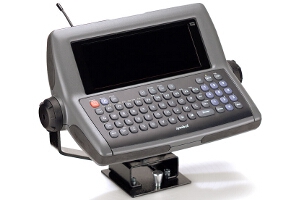 Zebra (formerly Motorola / Symbol) VRC7900 Vehicle Radio Computer
Discontinued
Replaced by: Zebra (formerly Motorola / Symbol) VC5090 Vehicle Mount Computer
Motorola / Symbol VRC 7900 Vehicle Radio Computer
Windows® CE Vehicle Mount Data Terminal Features QWERTY Keyboard, 1/2 VGA Color LCD and Extreme Environment Tolerance
Temperature extremes and punishing environments are common to the distribution center and factory floor. The VRC 7900 is specif ically engineered to deliver maximum durability in harsh conditions. It supports real-time receiving, tracking, put-away, picking and shipping applications, and provides new benef its for logistics and warehouse management system customers.
Offering the latest wireless LAN connectivity and the ability to interface with scanners, printers and other peripherals, this in-vehicle computer offers true multi-tasking operations and multi-host connectivity.
A Complete Warehousing Logistics Solution
Powered by a 32-bit StrongARM® processor, the VRC 7900 provides superior performance and eff iciency, running on a wide range of voltages. Microsoft® Windows CE offers a familiar operating system, while its modular design and PCMCIA (Type I, Type II or Type III) flexibility also contribute to the product's strength. In fact, the VRC 7900 is so advanced, it is capable of using emerging technologies such as Java and supports both Spectrum 24® 2 Mbps and 11 Mbps data rate radios.
A quick-release mounting bracket easily secures the VRC 7900 to fixed-mount locations or to forklifts, and allows for fast port- ing between vehicles. Its new, angled design makes it easier for operators to safely use the 65-key QWERTY keyboard and view the 1/2 VGA color display without obstructing the driver's vision.
The VRC 7900 is sealed to IP65 standards and offers a cold store heater option that enables the terminal to function at temperatures as low as -22°F/-30°C. To enhance operation in extreme industrial environments, the VRC 7900 features a large keyboard to accommodate gloved f ingers, tactile feedback with adjustable audible tones to conf irm data entry, and a high- contrast, color touchscreen LCD to provide the best readability under all conditions.
Through its rugged design and innovative features, the VRC 7900 allows operators to capture data on the factory floor or warehouse, and wirelessly download it in real-time to a host computer directly from the vehicle. Two-way communications permit management to reply with new work instructions and timely information updates. Quicker access to data means faster and better decisions, more productive employees and a positive impact on your bottom line.
StrongARM SA 1110TM Processor
High-performance and power efficiency from 32-bit StrongARM' processor at 206 MHz
Microsoft Windows CE 3.0 OS
Provides a familiar user interface and allows for easier development of customer applications
640 x 240 Pixel Touchscreen Color Display
High-contrast color LCD with backlighting for maximum readability; 16 line x 40 character display when running emulation
65-key QWERTY Keyboard
Supports up to 24 function keys for VT100/220, 3270 and 5250 TE functions
Wireless Networking via Spectrum24 2 Mbps or 11 Mbps Data Rate Radios. IEEE 802.11 and 802.11b Compliant
Seamless connectivity to Ethernet networks and Enterprise Resource Planning systems to support efficient supply chain management
Cold Store Heater Option
Reliable operation in temperatures as low as -22oF/-30oC for freezer/outdoor applications
Ruggedized Design
IP65 rating stands up to tough industrial environments

Need help finding a complete solution?
Call our product experts today!