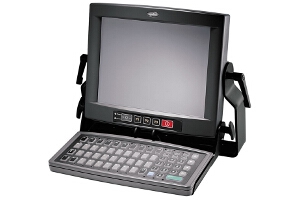 Zebra (formerly Motorola / Symbol) VRC8900 Vehicle Radio Computer
Discontinued
Replaced by: Direct Replacement Not Available - Contact Us For Suggested Replacement
Motorola / Symbol VRC8900 Vehicle Radio Computer
New Breed of Mobile Device for the Harshest Warehouse and Factory Environments
The new VRC 8900 mobile data terminal from Symbol Technologies is an industry first—a rugged device for use in the toughest environments with the industry-standard Windows CE operating system and a full-screen color display. Sealed for protection against dust and water (to IP65 standards), and shock-tested to 24G, the VRC 8900 is reliable in the most extreme temperature and environmental conditions, and easily tolerates sub-zero freezers as well as the vibration and repetitive pounding of forklift applications.
Designed for distribution centers, factory floors, and warehouses, the VRC 8900 supports real-time receiving, tracking, put-away, picking and shipping, and 1-D and 2-D scanning applications—and delivers a new level of benefits wherever implemented.
Full Suite of Features
The VRC 8900 combines best-in-class features to deliver the highest levels of performance, usability, and flexibility including:
Performance

The fastest processor available today for Windows CE
Industry-standard operating system provides instant user familiarity and strong application-development support
The memory you need to support your applications

Usability

Works with all forklifts—propane, gasoline and electric
Large, bright, high-resolution touchscreen enables easy reading and data management in any conditions
Programmable function keys bring one-touch simplicity to common tasks
Touchscreen and optional keyboard designed for use by gloved operators
Internal power supply prevents data loss when main power is removed

Flexibility

Easily integrate legacy applications as well as new applications as the business evolves
Automatically update device with the most current software and system applications
Supports wide array of Symbol scanners and Wireless Local Area Networks (WLANs)
The Bottom Line
The rugged design and innovative features of the VRC 8900 enable immediate data capture and exchange in virtually any factory or warehouse environment. The result is a faster, better decisionmaking process, increased productivity, and a positive impact on profitability. The VRC 8900 is backed by Symbol's worldwide service repair and support network. Application development expertise is available through Symbol's strong network of Business Partners.
Symbol systems are critical to the success of businesses everywhere by enabling the capture, access and management of information in data-intensive, time-sensitive environments at the point of activity.
12.1" SVGA Touchscreen with 800 x 600 Color Display

Large, bright display allows easy viewing in any lighting—from bright to dark

IP65 and 24G Shock Tested

Reliable in extreme temperature and environmental conditions, including the repetitive pounding of forklift applications

Embedded Microsoft® Windows CE OS

Familiar interface; eliminates learning curve; enables use of common and custom applications

Microsoft® Internet Explorer Web Browser

Familiar interface reduces training time and cost

Optional 62-Key Illuminated Keyboard with 24 Function Keys

Easily accommodates gloved hands; provides flexible data entry; increases productivity via function keys

Intel StrongArm® 1110™ Processor

Dependable high performance, reliability, and power efficiency

32 MB RAM/ROM; 32 MB Non-Volatile Flash

Provides ample data storage and enhanced performance; enables flexibility to design server- or client-side programs

Easily Accessible Touch- Enabled Membrane Switch with 3 Programmable Keys, 2 LEDs, and Hi/Lo Display

Perform common tasks with a single press of a button; easily diagnose communication/power problems and adjust screen brightness

Wavelink Client-Side Emulator Support

Integrate legacy and new applications as business evolves; leverage investment in existing infrastructure

AirBEAM® Smart-Enabled

Reduces total cost of ownership: automatically update device with most current applications and system software; eliminate time and overhead associated with pre-staging and manual configuration

Heater Option

Reliable operation in freezer/cold store/outdoor environments as low as -22º F/-30º C

Ergonomic Handles

Easy adjustment of terminal and keyboard
Need help finding a complete solution?
Call our product experts today!