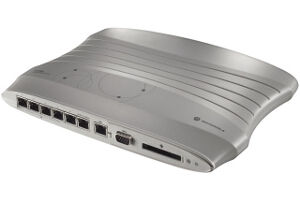 Zebra (formerly Motorola / Symbol) WS2000 Wired and Wireless Switch
Discontinued
Replaced by: Direct Replacement Not Available - Contact Us For Suggested Replacement
Motorola / Symbol WS2000 Wired and Wireless Switch
The WS2000 Wireless Switch is a powerful all-in-one solution that simplifies and helps reduce the costs of managing wired and wireless (802.11a/b/g) networks in enterprise branch offices. The WS2000 provides best in class secure wireless and wired network services to enable data, voice, video and mobility in the enterprise. The integrated router, VPN gateway, firewall, IPS, Power-over-Ethernet (PoE) and more eliminate the cost of purchasing and the complexity of managing multiple pieces of equipment. Support for Wi-Fi Multimedia extensions (WMM U-APSD) and SIP Call Admission Control enables the WS2000 to provide peak performance for even the most demanding applications, including voice and video. Smart Scan enables faster roaming by performing an opportunistic channel scan and providing a list of nearby available channels. This robust feature set delivers enterprise-class networking functionality — priced for the small to medium-sized business or enterprise branch office.
Switch-Based Centralized Upgradable Architecture
Enhanced performance and functionality; simplified deployment/management, investment protection; low TCO
802.11a/b/g Compatibility
Lower cost; broad, flexible radio support Wi-Fi Multimedia (WMM™) Quality of Service (QoS) and Voice prioritization Superior performance for demanding mission critical applications, including voice and video
SIP Call Admission Control
Controls the number of active SIP sessions that are initiated by a wireless VoIP phone
Enterprise-Class Security: 802.1X/EAP Kerberos, WPA2 (802.11i)
Enterprise-class authentication and encryption; ensures privacy of data during transmission
Smart Scan
Opportunistically scans channels to provide a list of nearby channels that are available, improving roaming speed for clients
Wireless IDS/IPS
Enhanced intrusion detection system (IDS) provides Rogue AP detection, Rogue AP containment and anomaly analysis of wireless data packets and client blacklisting
Wired IDS/IPS
Built-in Stateful Packet Inspection firewall; provides comprehensive protection against attacks by performing inline signature analysis of data traffic originating from wired and wireless hosts, both from the LAN and the Internet
AAA Integrated Server: Verifies Identity of Users and Administrators
Eliminates the cost/need for a separate RADIUS server
Integrated Secure VPN Gateway, Routing, DHCP, NAT, Stateful Packet Inspection Firewall with Extensive ALG Support and WAN Uplink (with PPPoE)
Eliminates need to purchase and manage additional equipment; simplifies provisioningof network services
Mesh Networking
Allows wireless extension of existing wired or wireless networks in remote or outdoor locations
Triple Methodology Rogue AP Detection: On-Channel, Mobile Unit, Dedicated Radio Dual-Band Scanning
Instant identification and reporting of unauthorized users delivers superior network protection
Need help finding a complete solution?
Call our product experts today!