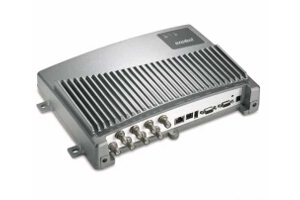 Zebra (formerly Motorola / Symbol) XR450 Fixed RFID Reader
Discontinued
Replaced by: Zebra (formerly Motorola / Symbol) FX9500 Fixed RFID Reader for Industrial Environments
Motoro XR450 RFID Fixed Reader
Industrial-Class RFID Reader Delivers Maximum Functionality And Benefits
The XR Series Readers from Motorola offer maximum functionality for large-scale RFID deployments. This strategic platform is designed to help enterprises achieve competitive advantage by increasing inventory visibility and process efficiency, resulting in reduced costs and improved profitability. Reliable and efficient tag reading in dense RF environments eliminates interference issues associated with multiple RFID readers in close proximity. The standards-based service-oriented architecture enables seamless integration and interoperability with your existing IT infrastructure — and maximum application flexibility. Robust RFID functionality includes support for standard back-end platforms, direct application hosting, and the ability to interact with additional asset automation equipment such as forklifts and conveyor belts. Support for leading business systems includes IBM's Data Capture and Delivery Solution (DCDS) certified to work with IBM Premises Server 6.1 and 6.0, Microsoft RFID Biz Talk Server 2006 R2 and SAP as well as leading development tools including .NET 2.0 and off-the-shelf applications. The flexible product line can support deployments around the world: the XR450 four port device operates in 902-928 MHz US frequency band and supports other regions, such as China and South Korea.
Next Generation Performance And Manageability
The easy-to-deploy devices provide a rich feature set to support the RFID applications of today and tomorrow. The XR450 offers customers the ability to select between using four mono-static ports that require only one antenna or four bi-static ports that require dual antennas for transmit and receive, providing greater flexibility to adapt the reader to the intended application and perform at the highest possible performance in the most challenging RF environments. Superior read rates and enhanced read ranges easily accommodate multiple RFID applications — from dock doors and conveyor belts to the warehouse floor or store front. Advanced data collection features enable the rapid delivery of refined real-time information. The ability to incorporate alarms, light sensors and more from other automated asset equipment enables a wide range of business processes — from dynamic reconfiguration of build-to-order assembly lines to real-time alerts that can prevent the placement of inventory in the wrong location. And the ability to control and maintain all XR Series Readers from a single central location dramatically simplifies and reduces the costs associated with day-to-day management.
Expand Functionality And Benefitswith Direct Application Hosting
The ability to embed a wide array of software applications, such as IBM's DCDS, enables the creation of an "intelligent" RFID reader capable of automating and managing the incoming RFID data. The result is the real-time visibility needed across the supply chain to improve productivity, optimize inventory management — and reduce inventory levels and associated costs.
End-to-End Lifecycle Support
Motorola offers true end-to-end solutions, including the services you need to successfully incorporate RFID technology into your environment — from assistance with planning through implementation to ongoing support.
Robust Platform for Industrial-Class EPCGen 2 RFID Implementations Delivers high-performance RFID data capture and communication in dense reader environments
Support for 4 Mono-Static / 4 Bi-Static Ports Facilitates decreased deployment complexity and increased flexibility of RFID implementations
Microsoft Windows CE5.0 Direct Application Hosting, Intel XScale Processor with 64 MB RAM/64 MB Flash Enables easy integration of wide range of third-party applications to maximize business operational efficiency; enables upgrading to meet future requirements; maximizes product lifespan; provides outstanding investment protection
Support for U.S. and Other Countries Flexibility to support global deployments
Open Standards-Based Architecture Enables seamless integration with existing IT environment
Enterprise Connectivity Through Control I/O Ports Expand RFID solutions to include intelligent initialization, direction and control of conveyor belts, portals and more
Durable Construction Maximizes uptime and reduces maintenance and repair costs
Advanced Data Collection Features Filtering, reconciliation, user-defined association, selective visibility and more enable the delivery of refined real-time information, enabling the rapid collection and delivery of meaningful data
Security Features Secure data transmission over external network interfaces with secure FTP transfers of files to and from the reader
Need help finding a complete solution?
Call our product experts today!