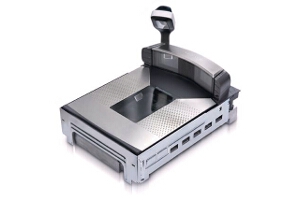 Datalogic Magellan 9800i In-Counter Scanner and Scanner/Scale
Datalogic Magellan™ 9800i Scanner/Scale
The Power of Imaging
The Magellan™ 9800i scanner/scale defines a new class of high performance bar code scanners for a worldwide market. With digital imagers in all planes, the 9800i scanner is the first scanner capable of reading both 1D and 2D bar codes seamlessly without requiring item orientation by the cashier.
The striking new design improves ergonomics with its lower bonnet height to allow repositioning of POS or Self-Checkout touchscreens, payment terminals and receipt printers to better accommodate ADA customers. The centered speaker provides audio feedback with .wav files for greater fidelity. The large horizontal window is ergonomically positioned for both standing and seated cashiers.
Enhancing the Customer Experience
An integrated, customer-facing mobile device reader enables retailers to easily engage in mobile commerce. This eliminates the need for an additional scanner, power supply, outlet, interface cable, POS port and mounting hardware. The customer can scan bar codes from their mobile phone screen or paper coupons while the cashier continues to scan regular items in parallel, resulting in a significant reduction in total transaction time.
Loss Prevention
Shrink reduction ranks high among retailers' concerns and the Magellan 9800i scanner has key features designed to reduce shrink at the POS.
Enterprise Features
Remote Management is supported for OPOS, JavaPOS, IBM™ Director and Wavelink™ Avalanche. Additional capabilities are available with the Value Added Features included in every Magellan scanner.
Features:
Advanced digital imaging in all reading planes
Seamless reading of 1D and 2D codes in all planes with good-read audio and visual confirmation for fast, uninterrupted scanning
Optional Top Down Reader (TDR) adds large topside field-of-view as well as a customerfacing mobile device reader
The largest ever All-Weighs™ scale platter enables effortless, accurate weighing of long or bulky items
ScaleSentry™ Shrink Monitoring/Prevention System technology reduces losses from oversized items placed outside the weighing surface
Low bonnet height allows for accessibility and flexibility in checkstand layout
Top side accessible service port allows for the product to stay in the counter for most service calls (including software upgrades), reducing service and scale recalibration costs
Illumix™ Intelligent Illumination Technology designed for digital imaging in retail
Loss Prevention:
All-Weighs™ Scale Platter

The All-Weighs scale platter design provides an alternative weighing surface on top of the bonnet, allowing the user to lay produce that is too long to fit on the platter.

ScaleSentry™

Monitors the 2 primary sides of the scale platter with an infrared (invisible) beam to detect if fruit or produce is misplaced on the scale platter causing the item to be under-weighed.
Misplaced fruits or produce will break the infrared beam and trigger an alert to the cashier, preventing the weight from being transmitted to the POS until the cashier corrects the problem.
Need help finding a complete solution?
Call our product experts today!