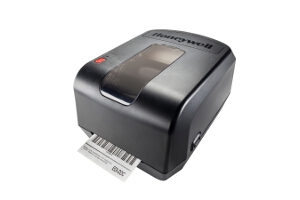 Honeywell PC42t 4" Desktop Thermal Transfer Barcode Label Printer
Honeywell PC42t Economy 4" Desktop Printer
Easy to install and ready to print quickly, the streamlined PC42t is an economical choice for media up to 110 mm (4.3 in) wide.
Based on more than 40 years of bar code printing innovations, the PC42t desktop printer sets new standards for userfriendliness and affordability. Exceptionally compact and easy to use, this printer is simple to install and is ready to print quickly. Quiet, reliable operation and intuitive design make the PC42t the right fit for light-duty labeling applications in a variety of industries.
Available in either 12.7 mm (½ in) or 25.4 mm (1 in) ribbon core configurations, the PC42t supports media as wide as 110 mm (4.3 in) and fits right into existing printing environments. The 25.4 mm configuration is compatible with ribbon lengths up to 300 m (984 ft) — more than four times the length of competitive offerings. With support for longer ribbons, downtime is reduced and ribbons can be shared with larger printers to provide increased media flexibility.
The PC42t includes broad, industry standard connectivity. Up to four ports are built-in: standard USB device and USB host, plus serial or serial+Ethernet. With a user-installable USB-to-parallel cable, the PC42t easily drops into virtually any environment. With its compact size, common media specifications, and support for ZPL-II and EPL emulation, along with Honeywell's popular Direct Protocol (DP), the PC42t provides an easy upgrade path from a variety of legacy Intermec and competitive printers.
With its affordable price and modern features, the PC42t represents a smart solution for the small or medium business looking to improve productivity in label making operations.
Economical to purchase and use, the PC42t is also a great choice for those looking to deploy thermal label printing for the first time, or for those transitioning away from more expensive inkjet- or laser-based label printing methods.
A Great Value.
The PC42t is an economical solution for light-duty thermal printing applications.

Flexible Media Support.
Supports a wide range of media, including 12.7 mm (0.5 in) or 25.4 mm (1 in) ribbon cores (depending on the model).

Well Connected.
Industry-standard connectivity includes USB host and device, and options for Ethernet, parallel and serial communications.

Simple to Reload and Maintain.
Easy to use, with a quick-opening design for media replenishment.

Wide Printer Language Compatibility.
Supports ESim (EPL), ZSim (ZPL-II) and Direct Protocol (DP) print languages for maximum compatibility.
Product Specifications
Rent this Product
Need help finding a complete solution?
Call our product experts today!