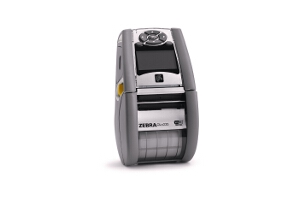 Zebra QLn Healthcare (QLn220 HC / QLn320 HC) 2" or 3" Direct Thermal Mobile Barcode Label Printer
Zebra® QLn™ Series Healthcare (QLn220 HC / QLn320 HC) Printers
Mobile printing enables users to label bedside specimens and samples at the point of collection, reducing the risk of errors and adverse events.
Zebra's QLn Series Healthcare printers are small and light enough to be easily carried on a belt clip or trolley and deliver labels at the point of care. This saves time and money and improves the patient experience.
The QLn220™ and QLn320™ Healthcare printers—an extension of Zebra's user-friendly QLn series printers—were designed specifically with healthcare facilities' needs in mind. To safeguard patient health, all tools that come into contact with patients must be clean of any potential germs, blood or other infectious liquids. However, cleaners can be harsh. Our healthcare printers are constructed using durable, disinfectant-ready materials so they can be cleaned quickly and easily between each use.
With Zebra's QLn series printers, developed especially for healthcare, you can:
Collect bedside specimens and create an associated label directly at the point of collection
Easily manage, maintain and upgrade all of your print devices virtually with Zebra's Link-OS® environment
Control printer configurations and ensure consistency in format outputs and printed materials with our Profile Manager app
Reduce service calls
Print labels that meet the Clinical and Laboratory Standards Institute® (CLSI) harmonization standard
Eliminate risk, save time and gain peace of mind
Trust Zebra to help you deliver the quality care your patients expect, and the efficiency you need.
Easy to Implement and Manage:
With Zebra's Link-OS environment, hospital IT staff can manage individual printers or groups of printers remotely via a web browser. Using the Profile Manager app, IT staff can expedite initial implementation, automate firmware uploads, resolve issues remotely and eliminate the time it takes to update programming on a printer-by-printer basis. And, if desired, users can alter printer settings from the front panel. Connect QLn printers to a wired Ethernet network via the QLn Ethernet cradle to enable easy, remote management.
Easy to Connect:
The QLn series offers the most in connectivity options with faster data transfer rates and greater range. Incorporating WLAN (802.11 a/b/g/n dual band) and Bluetooth® 3.0, these printers also offer Near Field Communication (NFC) for Print Touch™ features, such as immediate support to resolve printing challenges. To meet the increasing demand for mobile printing from different operating systems, QLn printers are "Made for iPod®/iPhone®/iPad®" certified and also support Android™ and Windows® devices via Multiplatform SDK apps.
Easy to Carry:
Weighing less than 2lbs and featuring a small footprint, the QLn220 and QLn320 are light enough to carry on a belt clip and fit easily on a cart or trolley.
Easy to Use:
Both the QLn220 for print widths up to 2 inches and the QLn320 for 3-inch-wide printing feature an easyto- read display with a large, high-resolution screen. A variety of proactive alerts helps keep the printers up and running, and the Link-OS Print Touch app gives hospital staff instant access to product support and how-to videos.
Easy to Accessorize:
Redesigned especially for healthcare, the QLn220 and QLn320 feature a more desired healthcare color palette with a matching belt clip and battery, similar to that of the HC100,™ for a common look and feel.
Easy to Clean:
Cleaning agent ingredients that are safe to use on QLn Healthcare printers:
Isopropyl and Ethyl alcohol (including wipes)
Ammonium
Hydrogen peroxide
Phosphoric acid
Bleach/sodium hypochlorite
Mild dish soap
Recommended cleaning agents include:
Windex® Blue (or Isopropyl alcohol-based equivalent)
CaviCide® (or Isopropyl and Ethyl alcohol-based equivalent)
Lysol® Healthcare (or hydrogen peroxide-based equivalent)
Wescodyne® (or phosphoric acid-based equivalent)
409® Glass and Surface Cleaner (or dimethyl benzyl ammonium chloride or other ammonium-based equivalent)
Ideal for These Patient Bedside Applications:
Specimen/Sample Labeling
Patient Records Labeling
Includes disinfectant-ready plastics in a lighter healthcare color scheme
Apple® iOS, Android, Windows Mobile and BlackBerry® connectivity
Direct thermal printing of barcodes, text and graphics
CPCL, EPL™ and ZPL® programming languages
256 MB Flash supports downloadable programs, receipt formats, fonts and graphics (64 MB available for user storage)
2450 mAh (nominal) 18.1 Wh removable, rechargeable Li-Ion battery
Built-in battery charger
IEC 60601-certified AC adapter for medical environments
Serial and USB ports (both support strain relief)
Belt clip for unobtrusive and convenient printing (not compatible with extended capacity battery)
Black mark and gap media sensing using fixed center position sensors
Easy-to-use peel and present mode
Label present sensor for issuing labels one at a time
Tear bar for easy media dispensing
Center-loading media locking for variable roll widths
"Clamshell" design for easy media loading
Management: Mirror, SNMP, Web server, Profile Manager, AirWatch® and Wavelink Avalanche®
Large, easy-to-read LCD control panel (240 x 128 pixels)
LCD can be customized using WML (text and icons)
5-way navigation buttons, two software defined keys
Printer alerts on the display, help menus
Tolerance of multiple drops from 5'/1.52 m to concrete
IP43 dust- and water-resistance rating (IP54 with soft case)
400 MHz 32-bit ARM processor
XML support
Supports vertical and horizontal printing
Printers can be used in any orientation
QR barcode links to web-based help pages
Zebra Print Touch simplifies Bluetooth pairing and launches web-based help pages with Near Field Communication (NFC) enabled devices
Label odometer
Real-time clock
Need help finding a complete solution?
Call our product experts today!